ACQUEST AIR MICROMETER CAG - 4000 Features:
Built-in SD card slot

Saving data as standalone is possible

Tracebility control

Data format is CSV for Excel edit

Color LCD: TFT color LCD for easy-to-read and possible quick judgement

Increased number of program: number of stored program is increased from 10 to 30

Additional master button: master coordination can be easily performed by push button

USB port is standard equiped: connect PC and CAG-4000 directly by USB cable, and download the measuring data to Excel

Compact design: 40mm shorter in depth
Applicable to U-WAVE:
You can download the CAG's measured data to PC with other measuring device data at the same time by using U-WAVE, which is MITUTOYO's wireless data communication system.
The measured data will be sent to PC where U-WAVE-R is connected

(wireless communication)

Confirm the transmitting and receivingon each other with U-WAVE-R.

So the measured data will be safe for sending to PC from further afield.

It's available to transfer the data to PC by 20m distance from display.
Easy-to-read bar graph display:
| | |
| --- | --- |
| | The 101 dot, 3-color bar graph display judgment indicates green for OK, red for NG. |
Display Screen:
Three language operation : English, japanese, or Chinese. Judgement results are displayed. OK is green color, NG is red color.

Master coordination can be easily performed by push button.
ACQUEST AIR MICROMETER CAG - 4000 Specifications: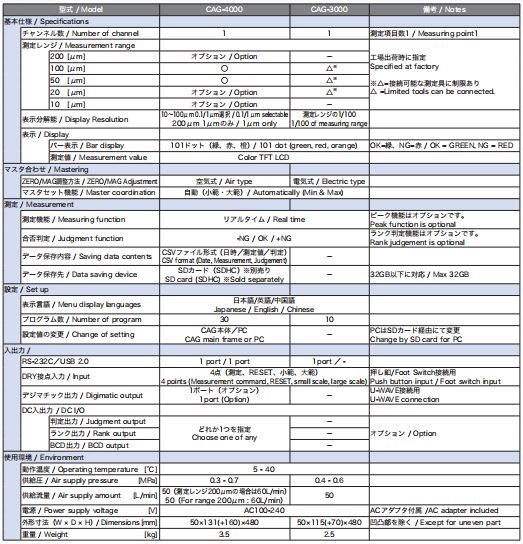 ACQUEST AIR MICROMETER CAG-4000 Options:

The following options can be used for CAG model series. Please contact our Sales Office for the details.
| | | | | | |
| --- | --- | --- | --- | --- | --- |
| | Foot Switch | | Master coordination box | | CAG-series permits any number of air micrometers to be easily stacked together. No power jumper cable is available for CAG-4000. Each one AC adapter is required per every unit of CAG-4000. |
Request A Quote
To receive further information on ACQUEST AIR MICROMETER CAG - 4000, please complete the following form. We will reply as soon as possible
Sorry, this product does not have video.