Limits are newly defined
Shorter cycle times, higher output – the Multi-Fluid concept of the HCS MF-series opens new horizons of efficiency thanks to its pinpoint cooling during the cutting process. The Multi-Fluid system is excellent for high-alloy stainless steels and tool steels, nickelbased alloys like Inconel and Hastelloy as well as titanium alloys. Depending on the requirements, the following cooling/lubrication components can be combined in a most effective way:
Coolant nozzles for wet processing

Micro-spraying device for minimum quantity lubrication

Cooling vortex tube for dry processing
The results: effective cooling allows for high feed rates and shorter cutting cycles, while also increasing tool life considerably.
Combined with the large saw blade diameter range (up to 520 mm), the HCS-MF automatic circular cold saws are unbeatable in their flexibility and profitability.
Constant weight feature – 100 % good parts
This feature is particularly useful for the forging industry. An automatic query of the material diameter ensures a constant weight of the pieces cut. Before the cut, the work piece is measured and any variations in diameter are compensated by adjusting the cutting length accordingly. Ask our engineers for complete solutions for your individual requirements. It pays!
Technical Data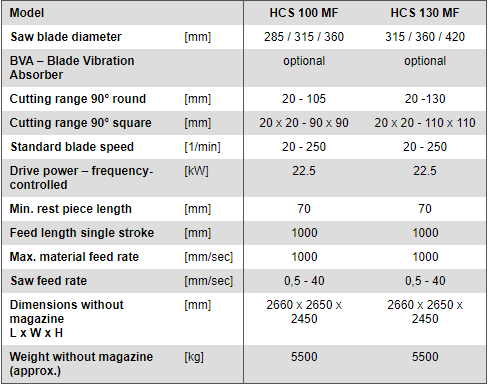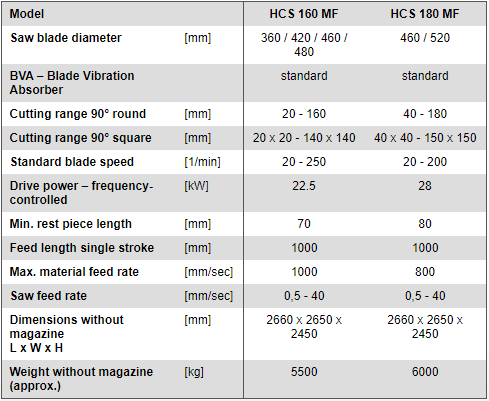 Request A Quote
To receive further information on Behringer Eisele HCS Multi Fluid, please complete the following form. We will reply as soon as possible
Sorry, this product does not have video.