Behringer Eisele VA-L Series offers a fully automatic straight cutting saw solution. Behringer Eisele VA-L  are robust design, state-of-the-art drive technology used in the feed axis and main drive system, and the extreme rigidity of the ultra-precise saw spindle bearing. The result: an optimized, low-vibration cutting process providing extreme cutting output, excellent surface quality and maximum availability.
Behringer Eisele VA-L features:
1. Intuitive control system
Behringer Eisele VA-L Series have touchscreen control which allows convenient and simple to operate application. A job memory allows recurring profile data to be stored, saving time and guaranteeing quick and accurate reproduction of results. Profile and order data can be imported directly from the customer's network via the control system's Ethernet port.
2. Material feed system with controlled zero edge
The NC axis with ball screw and servo drive in conjunction with a controlled zero edge guarantees extreme positioning accuracy. The controlled zero edge helps ensure gentle material handling.
3. Extreme ease of access
An invaluable bonus when it comes to servicing and repairs: The casing can be opened up to expose large areas of the machine. All the important components and parts are easily accessible. Behringer Eisele VA-L machine's open design affords direct access to all important components, facilitating maintenance, cleaning, repairs and saw blade exchange.
4. Automatic widening of kerf channel
The kerf extension allows clear return travel of the saw blade by pressing back the material and the offcut on both sides. The effect: increased service life of tools and elimination of scratching on the cut surface during blade retraction.
5. Pneumatic or hydraulic clamping
With the choice between a pneumatic clamping fixture for gentle clamping and a hydraulic alternative for greater power when processing predominantly solid material. For parallel cuts, both systems are able to cope easily even where a slight torsion exists in the material.
6. Two feeding systems
The frequency-controlled main drive system offers scope for adjusting the cutting speed to the sawing process so that both high-strength Al-Si alloys and thin-walled pipes and profiles can be sawn. Two saw feed systems are available: Hydraulic as standard and servo motor-controlled feed as a high-performance option.
To serve your interest on Behringer Sawing Machines, kindly contact our Sales Department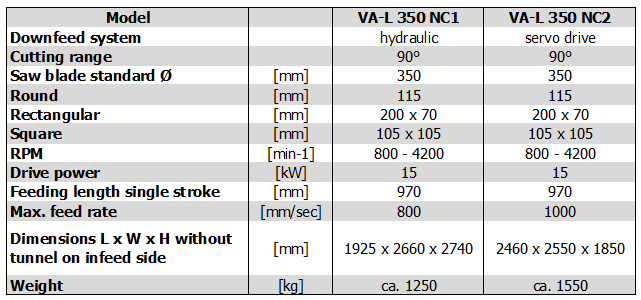 Behringer Eisele VA-L 560 Series For Heavy Duty Application Technical Data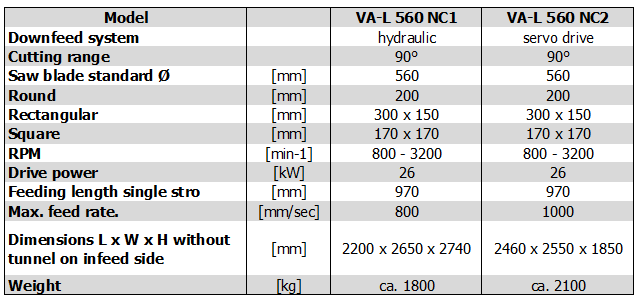 To serve your interest on Behringer Sawing Machines, kindly contact our Sales Department
Request A Quote
To receive further information on Behringer Eisele VA-L Series, please complete the following form. We will reply as soon as possible
Sorry, this product does not have video.