Behringer's HBP Mitre-cutting Bandsaw for precision cut with acute angles
Investment in new machinery will hugely affecting how your business deliver the desired output. Whether to improve or start new fabrication system of clients with world's ultimate requirements, Behringer HBP Series give lower cost of cut, ease of use and energy efficiency. Behringer HBP features:
1. Full power in any position
BEHRINGER machinery are versatile mitre bansaw on handling various job from precision slicing through sectional steel as well as solids in metal and comparable plastics at almost any optional angle. With highly precise and extremely durable at an exceptional cost-to-performance ratio, individually adjustable for bidirectional mitre cuts between 90° to 45°, and even for acute angles of 30°.

2. Semi-automatic variants
BEHRINGER semi-automatic models works by positioning the mark on material manually with the aid of a linelaser. This procedure is recommended for frequently changing cut-off length and for customized cut which made BEHRINGER's HBP Mitre Bandsaw the industrial standard for reliability, precision and versatility.
3. Automation
BEHRINGER is the only Mitre Bandsaw that can provide with the total solution of automation line. To achieve the ultimate automation result and added streamlining effects, devices such as roller conveyors, transverse transport and measurement device for precise positioning of the material must be installed on infeed and outfeed peripheral.
To serve your interest on Behringer Bandsaw Machine, kindly contact our Sales Department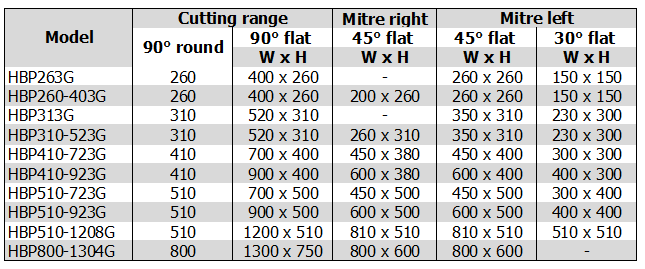 To serve your interest on Behringer Bandsaw Machine, kindly contact our Sales Department
Request A Quote
To receive further information on BEHRINGER HBP MITRE-CUTTING BANDSAW, please complete the following form. We will reply as soon as possible
Sorry, this product does not have video.