For over 20 years, Dindan Technical devised ranges of cooling units which help you to gain better performance on dispersing heat efficiently in industrial application. With proper airflow management, you can improve your system lifespan and lower the burden on various manufacturing system within affordable budget. Each type of cooling system has been cleverly designed to generate the full BTU. Compared to blower system, Dindan cooling system is far economical, centralized and can be installed with fully customized arrangement. Dindan Linear 2400 Watt is highly desireable on control system of either semi or fully automation production line as well as older machinery with busy queue which previously costly and not feasible for air conditioning application.
Dindan Linear 2400 Watt is positioned as the basic-range alternative for 24-hours cooling system which provide direct airflow. Thanks to its intelligent Hi-prosent control, you can conveniently maintain desired temperature and alert you when to dispose off the water it contained. Its industrial evaporator coil is designed to reach maximum efficiency while distributing steady flow of cold air. Dindan Linear 2400 Watt units are both eco-friendly and economical as they are powered with hermetic compressor which uses high quality r407c refrigerant and durable 1440rpm servo fan. Dindan Linear 2400 Watt is suitable for server mainframes, transformator, storage cabinets, electronics control boards and many more.

Dindan Linear 2400 Watt Features:
Durability to the ambient temperature up to 50 degrees, suitable for larger system which requires wider area of coverage.

Operates quietly and consume lower power compared to blower and air conditioning system.

Slim enclosure of 210mm which made from the slag free materials & resistant to chemical erosion on your factory floor environment.

Evaporator coil and condenser coil are designed for 24 hour operational

Centrifugal condenser fan provide energy saving capacity which is more effective than the other cooling unit of the same BTU.

High efficiency for heat radiation, and capable of maintaining the designed temperature inside the control box.

Switching system of controlling temperature is done rapidly that does not cause any damage to a compressor.

19 mm screen with 2 colour LED indicator to display temperature.

Light weight with a compact form factor that does not damage the cover of the control box.

Internal sensor for detecting over-flown water level to prevent water leaking into the control box.

The adjustable tray of water drainage system is provided.

On dusty environment, regular vacuum cleaning can be easily done trough its servo fans vetilation.
If you have any kind of questions or any interests for our product, feel free to contact us here
Dindan Cooling Unit Linear 2400 Watt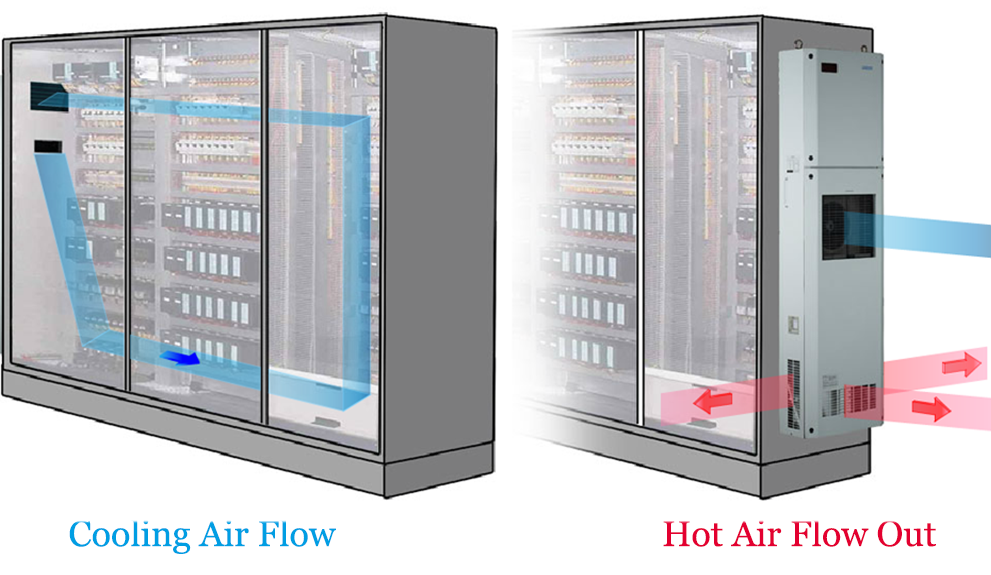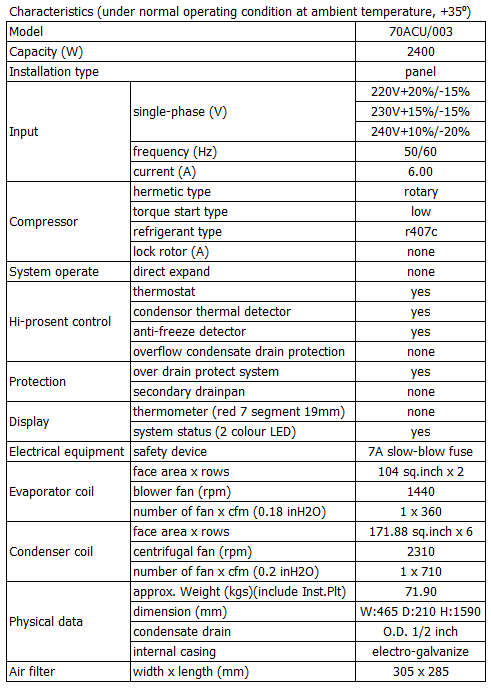 Request A Quote
To receive further information on DINDAN - LINEAR 2400 WATT, please complete the following form. We will reply as soon as possible
Sorry, this product does not have video.