Applications of Elepot Electric Furnace:
Hardening/tempering/annealing of steel

Melting and sintering of metal

Shrink fit, heating for processing

Solution heat treatment, stress relief treatment, aging heat treatment
Features of Elepot Electric Furnace:
Incorporating ceramic fiber as an integral part of the heat insulation material, and incorporating an air layer between the outer wall and other features, it incorporates lightweight technology so that can be moved and carried

Energy saving design: heats up with 1/3 the power of conventional, temperature up to 1150°C with 1.8 kW power

The cylindrical shape without four corners allows for even heating of the work. In addition, since the top cover is used, it is easy to take in and out of the work, and it is designed in cosideration of work efficiency

It is a simple operation just to set the set temparature and timer. The temperature controller has a bult-in timer and issues a buzzer alarm after the holding time. In addition, stable and accurate temperature control from low to high temperatures is possible by three levels of PID control

Equipped with an overheating prevention function as standard. If the temparature rises to the set temparature, the heater will automatically turn off (except for the LU type).
To serve your interest on HATA Elepot Electric Furnace, kindly contact our Sales Department
HATA Elepot Electric Furnace Specifications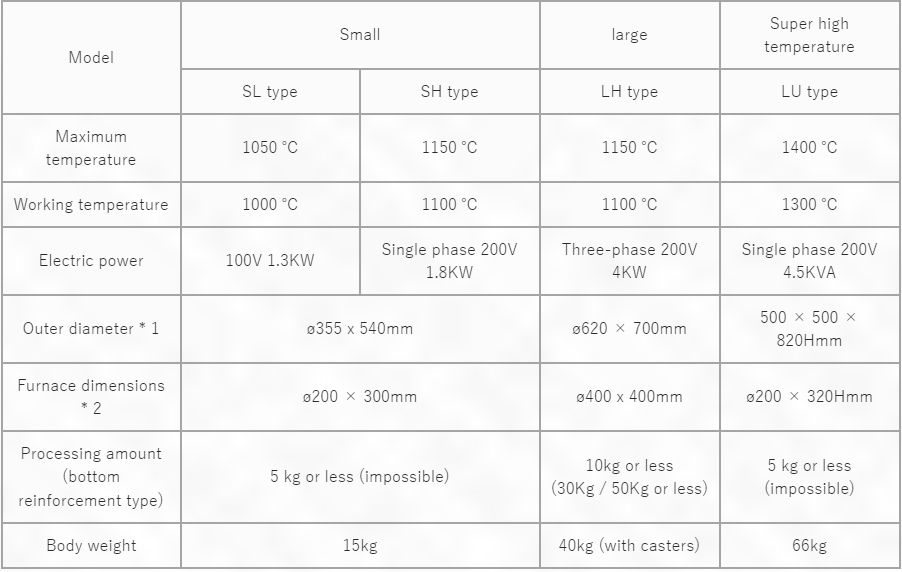 *1 Ecxluding control panel, *2 Excluding liner piece and hearth plate.
The following parts are include:
Hearth plate x 1-Thermal stick x 1-Lid table x 1-Repair cement x 1-Liner piece x 4 (small) / x 8 (large)

Outlet plugs are not included with the SH, LH and LU types. Please prepare a plug with the shape that fits your place of use.

After the temperature holding end buzzer is stopped, the set temperature is held as it is.

If you need more than 1100 ° C (such as quenching or sintering of high-speed tool steel (high-speed steel)), use the ultra-high temperature LU type.
To serve your interest on HATA Elepot Electric Furnace, kindly contact our Sales Department
Request A Quote
To receive further information on HATA ELEPOT ELECTRIC FURNACE, please complete the following form. We will reply as soon as possible
Sorry, this product does not have video.