Käfer Precision Dial Gauge KZ 4/5 Rb

Kafer Precision Dial Gauges With Back Plunger are light and handy. The models with back plunger provide the designer with new construction possibilities. They allow positioning with optimal read-out facility. These models can be held either on the stem Ø 3/8" or on the 1.1024" diameter spigot. Spindle and stem are made of resistant stainless steel. The spindle is lapped for accuracy.
Solidly made, it has a wide application for measuring accurately within its measuring range of 0.2 inch. The well thought-out design, accurate components and robust construction of Kafer Precision Dial Gauge series offer reliability, durability and repetitive consistency.
Kafer Precision Dial Gauges With Back Plunger features:
Dimensions and accuracy according to DIN EN ISO 463

Range per revolution 0.02 inch

Initial measuring force 1.5 N

Dial reading 0-10-0

Bezel-Ø 1 9/16"

Stem-Ø 3/8"

Accuracy according to manufacturing standard 0.0500.9.0007

The final quality control for the whole series includes visual inspection and full mechanical functional tests.

Supplied with Declaration of Conformity and Confirmation of Traceability.
To serve your interest on various Käfer products, kindly contact our Sales Department
---
Käfer Precision Dial Gauge KZ 4/5 Rb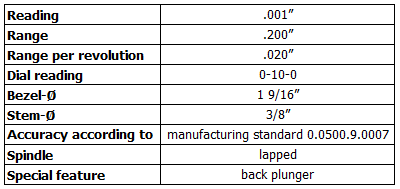 To serve your interest on various Käfer products, kindly contact our Sales Department