Magafor manufactures more than 250 product groups of mini cutting and detailed toolings solution in Europe. Magafor is specialized in manufacturing micro toolings so that they have specific design for every machining applications. Magafor have produced even the smallest drills of 0.40 mm diameter micro end-mill which are available in 26 different lengths and designs. Magafor styles, materials and lengths can also be custom-ordered to meet various application within specific machining technique.
The magafor step drills are designed for combining both boring and counterboring for capscrews. Their short design offers rigidity, performance, and reduction in costs. Besides that, their reduced core improves tool penetration. Magafor Step Drill 254 is designed for combining both boring and counterboring before threading operation. The design ensures rigidity and longer tool life.
To serve your interest on Magafor products, kindly contact our Sales Department
MAGAFOR STEP DRILL 254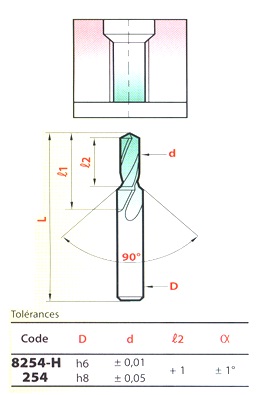 VIS

D x d

L

ℓ1

ℓ2

Ø SCREW

M3

3.4 x 2.5

52

20

8

M4

4.5 x 3.3

58

24

11

M5

5.5 x 4.2

66

28

13

M8

9.0 x 6.8

84

40

20

M10

11.0 x 8.5

95

47

24

M12

14.0 x 10.2

107

54

29
Request A Quote
To receive further information on MAGAFOR STEP DRILL 254, please complete the following form. We will reply as soon as possible
Sorry, this product does not have video.