NIDEC - DAG 2000 is devised as a relative measuring instrument that can measure the dimensions of a piece of work using flow of compressed air which is recognized by its probe. You can easily tweak your measurement sequence by its programmable range. Back pressure which is amplified in proportion to a small clearance is indicated on the LCD display. Unique adjustment functions allow for accurate magnification adjustment over a wide range. High pressure air blows off dust,oil to ensure accurate measurement and quick response. Unlike others, NIDEC - DAG 2000 can also be combined with several type of probe sensor of both electric and air gauge for crosschecking results on various workpiece and testing sequence.

NIDEC - DAG 2000 micrometer are intended to measure the precision work of piece such as combustion chamber, turbine, flanges, valve and many other system which need delicate measurement without direct contact on the surface. The highly versatile Tosok air gauge micrometer is the ideal investment for quality measurements on the production floor as they offer highly versatile measurement for both pass/fail test and precision comparison.
NIDEC - DAG 2000 Features:
Highly versatile for both air and electric micrometer as 2 channel electric micrometer is readily built-in with multi-range A/E converter; which can be adjusted to all ranges simply by panel switches.

The LCD displays minimum resolution up to 0.01μm (option), result can be displayed in 3 different colors and the 8-digit multi-function displays the measurement values and item name, etc.

The serial connection bus that comes as standard which enables data output to the PC and printer so that measurement data output can be saved or further processed to any spreadsheet software.

Push buttons and external signals enable automatic performance of large scale and small scale master coordination.

Suitable for automatic measurement by output sig of judgement.
If you have any kind of questions or any interests for our product, feel free to contact us here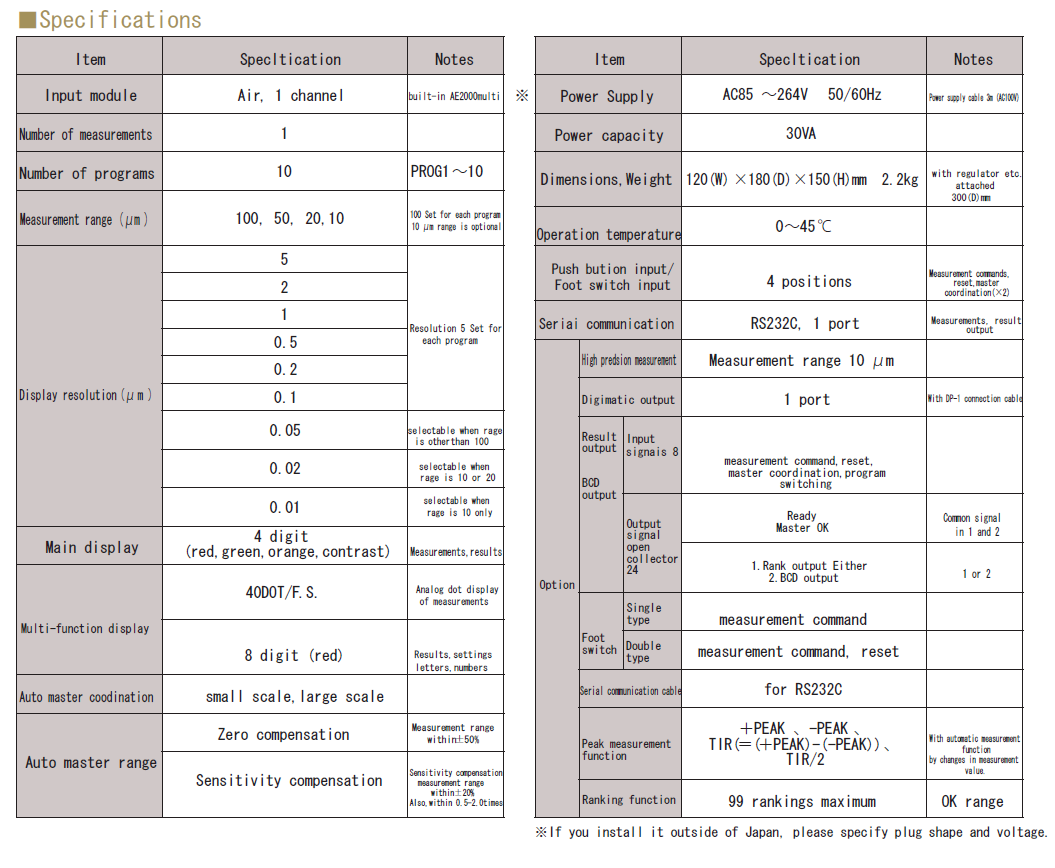 If you have any kind of questions or any interests for our product, feel free to contact us here
Request A Quote
To receive further information on NIDEC - DAG 2000, please complete the following form. We will reply as soon as possible
Sorry, this product does not have video.