Features
PortaDot™ 50-25E Marking Machine
Lightweight, ergonomic handheld machine allowing the marker to be taken to the part, especially useful when marking very large parts.
Adjustable clear face mask provides excellent visibility of the marking location.
Generous 50mm x 25mm marking area satisfies the requirements of most applications. (For larger marking areas on handheld units see the PortaDot™ 130-30E unit )
Electric Solenoid with programmable depth settings. Capable of marking all engineering materials up to 62HRc (800Hv)
100 - 220v single phase supply (no pneumatics required).
'Press and hold' trial run feature allows the marking location to be determined quickly before marking.
Low running costs and virtually no consumable costs.
3000 controller and software
Separate 3000 controller protects electronics from shock loading of mechanical marking operation.
Durable integrated membrane keyboard with LCD linked function keys.
Very large embedded graphical display
Simple to use menu system software with marking preview
Advanced standard features incl. serial numbering, passwords, arc marking, time/date and logo marking etc.
Various communication ports and I/O
Wide Range of Options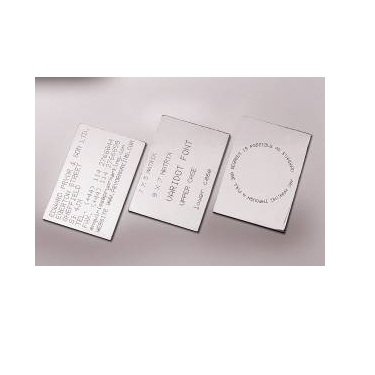 Technical Specification
Marking Area: 50mm x 25mm
Std. Character Sizes: 0.15mm - 24.9mm in increments of 0.15mm
Marking Formed: 5 x 7, 7 x 9, Varidot, HPGL, BMP Logos
Marking Speed: Variable, depends on application
Memory storage of up to 1350 marking programs
3 metre umbilical cable
2 x RS232 and Digital I/O (8 In 6Out) Connectivity. Optional Ethernet TCP/IP
Full QWERTY integrated membrane keyboard with addition PS/2 port for external keyboards
On-screen mark preview and trial-run features
Remote Start/Stop control box
PC Option using Pryor MarkMaster™ Graphical Software
Weight: Marking Machine - 2.3kg Controller - 10Kg
Request A Quote
To receive further information on PortaDot™ 50-25E, please complete the following form. We will reply as soon as possible
Sorry, this product does not have video.