Nidec-Shimpo devised Shimpo FG-7000 Series digital force gauges to simplify your compression and tension testing needs. Shimpo FG-7000 Series have three modes of operation, which are: Track mode for live readings, Peak mode for displaying the peak reading that remains until a higher peak is sensed, and Auto Peak mode which is similar to Peak mode except the peak on the display will additionally reset after a programmed time period. Programmable limits on Shimpo FG-7000 will provides a quick visual and audible indication if a test passed or failed on the LCD. Furthermore, the comparator output can be set up for integration of the instrument into your quality system for repetitive testing such as on a production line.
Shimpo FG-7000L are designed to be a handheld device which fit perfectly in the operator's hand for portable testing. The Shimpo FG-7000L enclosure is a solid aluminium built with large back-lit, 180° auto-reversible display, compression/tension icons, combined with the dual labeled key pad allows for usage of the gauge in various positions while still being able to easily view and operate. The Shimpo FG-7000L is the ideal force instrument for various applications such as, incoming quality inspection, finished goods testing, R&D or almost any force testing requirement.

Shimpo FG-7000L Features:
1000 Hz Sample Rate combined with +/-0.2% F.S. accuracy provides instant sampling producing great resolution and more accurate results

Three mode operation: Track, Peak & Auto-Peak

180° Auto-reversible display, tension/compression icons, and dual printed keypad allows usage as a portable gauge or mounted upside down on a test stand

Programmable High & Low Limits allow for instant visual and audible indication of pass or fail testing

1000 point data collection capability can be viewed on display, sent to optional printer, or uploaded to software package via USB or RS-232 Serial Port for further analysis

Rugged, ergonomic die cast aluminum construction allows usage in demanding applications

Comparator output function provides user with easy Pass/Fail testing system integration capabilities

Multi-language and engineering unit's selection provides flexible user comfort

Field Calibration capability eliminates need to send to lab

Calibration Certificate included along with popular adapter attachments

Free Data logging/graphing software available for free download on website

The set includes AC Adaptor/Charger, USB cable, calibration certification, 6 attachments: hook, flat tip, conical tip, chisel tip, notched tip, extension shaft.
To serve your interest on Shimpo solutions, kindly contact our Sales Department
Shimpo FG-7000L Digital Force Gauge Models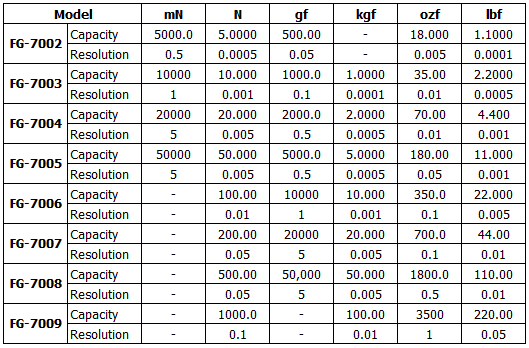 Shimpo FG-7000L Digital Force Gauge Specification

Shimpo FG-7000L Digital Force Gauge Models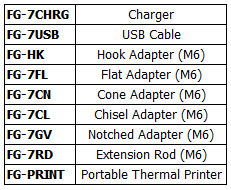 To serve your interest on Shimpo solutions, kindly contact our Sales Department
Request A Quote
To receive further information on SHIMPO FG-7000L DIGITAL FORCE GAUGE, please complete the following form. We will reply as soon as possible
Sorry, this product does not have video.