The integrated marking solution i83 was specifically engineered to integrate seamlessly into automated production lines. Easy to operate, it automatically detects the marking surface enabling rapid dot peen marking on components of various shapes, sizes, and surface materials. In addition to marking plastics and hardened steel (up to 62HRC), its unique electromagnetic driving technology does not require a separate pneumatic system.
Known for its rugged reliability, the integrated marking system i83 is a high-performance tool that requires minimal maintenance and no consumables. Its internal components are protected by a thick steel frame allowing intense industrial operation, even in the roughest environments. The cable is easily removable for fast and easy replacement when necessary.
The high speed integrated software and user friendly programming process makes the i83 simple for anyone to use, with minimal training. Effortless operation is enhanced by the quality and accuracy of the guidance and the wide tolerance between the stylus and the part, making the i83 a flawlessly reliable dot peen marking machine.
To serve your interest on SIC Marking e10 R i83 Dot Peen Marking Head, kindly contact our Sales Department
Mechanic Features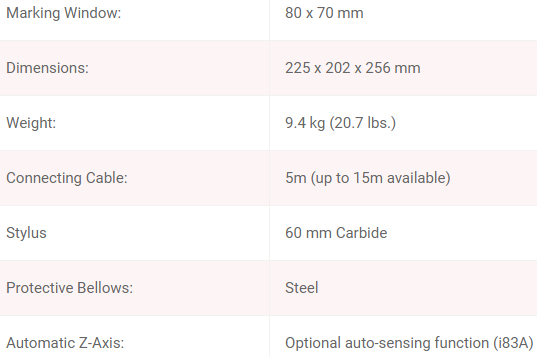 Electronic Features
The e10 R Controller offers seamless integration into automated production lines. A fully enclosed steel cabinet shelters the internal components, permitting use in even the most intensive industrial environments. Using a DIN rail mounting kit (optional), the e10 R can be mounted vertically in an electrical cabinet for stationary operation.
The e10 R boasts a revolutionary microprocessor that offers a swift set-up process and smooth browsing. Its sealed QWERTY keyboard and LCD color screen provide the operator with a user friendly interface that is shielded from the workspace elements. The e10 R controller is ideally suited for controlling integrated marking heads, since the marking files can be both created and edited directly on the machine using the controller interface. Its comprehensive software package allows for a range of marking types, including linear, angular, radial, and mirror image marking. An optional 3rd/4rth axis circuit board can be installed to control a motorized column and/or rotary axis. Self-diagnostic and machine history functions are also included.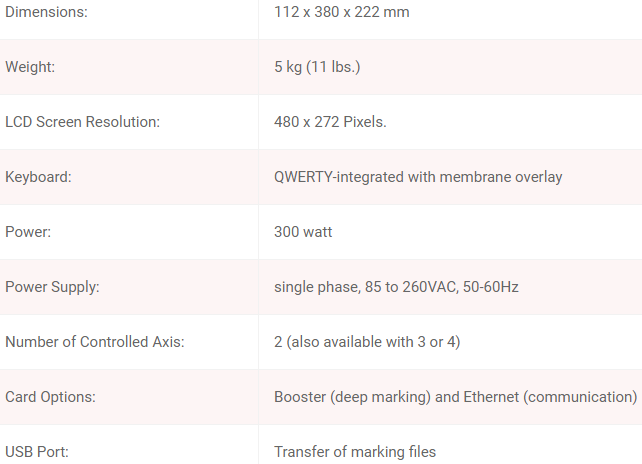 Steering Software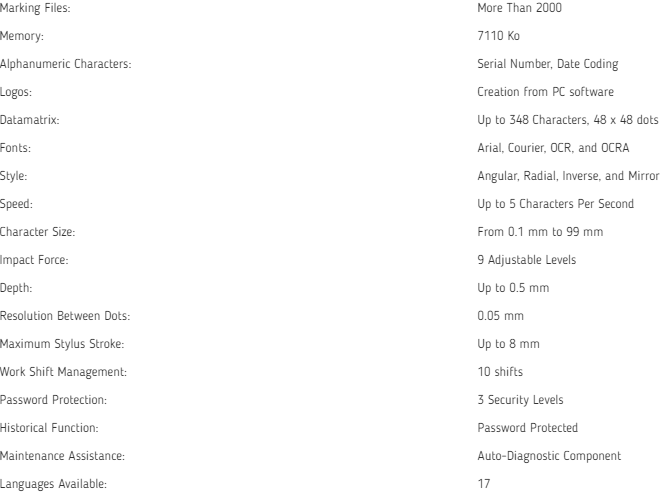 Communications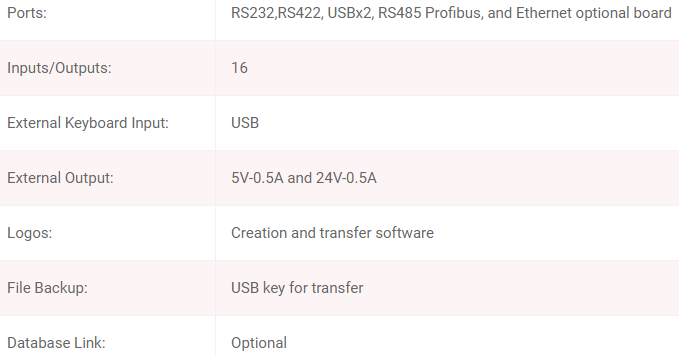 To serve your interest on SIC Marking e10 R i83 Dot Peen Marking Head, kindly contact our Sales Department

Request A Quote
To receive further information on SIC Marking e10 R i83 Dot Peen Marking Head, please complete the following form. We will reply as soon as possible
Sorry, this product does not have video.