The Labconcept Nano series are crafted by Trimos to deliver Swiss made precision comparator on your metalworking floor and calibration laboratory. Trimos Labconcept Nano will endorse your competitiveness to perform all dimensional measuring tasks on extremely high accuracy. Trimos deliver the sophisticated measurement technology on a friendly to operate platforms. Whether in checking of internal and external dimensions, investment on Trimos Labconcept Nano will enables you to stay versatile and competitive in working on higher precision instrument as demanded in aerospace, mechatronics and robotics.   
Trimos Labconcept Nano combines tradition, experience and a strong technological lead as the first "fully digital" calibration instrument. Trimos Labconcept Nano enables you to have inhouse assurance as it works on a fully automatic procedure by the three motorized axes XYZ which are easily tuned by Trimos's intuitive  WinDHI software. Trimos Labconcept Nano is equipped with regular PC, controls all electronic components for auto-power saving. The linear bearings used in all guideways have proven their unrivalled superiority in terms of precision, wear, rigidity, temperature stability, reliability, dust protection and maintenance. 
Trimos Labconcept Nano Calibration Machine ensure exceptional repeatability and precision through time with application ranges of 350, 600 and 1100mm on measuring your object of upto 60 Kg of weight. Trimos Labconcept Nano series are applicable to check all kinds of gauges as plain ring gauges, plain plug gauges, pins, threaded ring and plug gauges, conical thread ring and plug gauges, gauge blocks, snap gauges, gauge bars etc. The sizes of all gauges can be considered by selecting the required model (350mm / 600mm / 1100mm).
 Trimos Labconcept Nano Calibration Machine Features:
Unequaled high level of accuracy: 0.07µm + L/2000mm

Exceptional repeatability: 0.03µm

Motorised measuring carriage, X axis, selection of speed by software

Motorised universal measuring table, Y/Z axis. 60Kg range

Measuring force (0-12N) and locking of measuring anvil performed by software.

Integrated temperature compensation system (2 sensors)

Integrated gauge management software (optional)
 Trimos Labconcept Nano Calibration Standard Delivery:
Instrument according to specifications with tungsten carbide surface anvils

Universal measuring table with motorized Y and Z axes (Nano-14)

PC with interface, 2 LCD TFT screens and 1 printer

Foot pedal for data transfer (TELMA31)

Specially designed workbench with 1 drawer cabinet and 1 door cabinet

Temperature compensation system (TEMPCOMP-B)

Lapping plate (TA-TO-302)

Protection cover (TEL.HO500/1000/1500)

Allen key set (TA-TO-004)

User's manual (750 50 0039 03)

Test certificate
If you have any kind of questions or any interests for our product, feel free to contact us here
Trimos Labconcept Nano Calibration Machine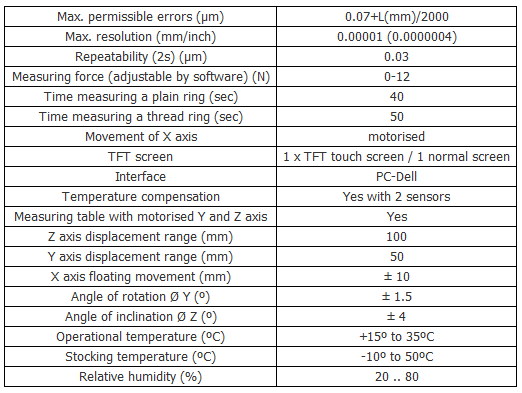 Trimos Labconcept Nano Calibration Machine Ordering Guide:  

Request A Quote
To receive further information on TRIMOS LABCONCEPT NANO CALIBRATION MACHINE, please complete the following form. We will reply as soon as possible
Sorry, this product does not have video.