The horizontal THV instrument has been designed for calibration and certification of gauging equipment of small dimension.
It allows easy and precise checking of plug gauges, ring gauges, thread plug gauges, test and dial indicators as well as measuring of high precision production parts.
The incorporated opto-electronic measuring system guarantees high accuracy. A separate display unit or a PC with Trimos WinDHI software can be used to display the measurement results.
The THV instruments can also be delivered without measuring system. An electronic probe or a dial indicator shall then be used as measuring system.
Due to its small size, The THV can be moved easily. It is therefore frequently used as mobile calibration station.
Ideal for the use in a clean room and in the workshop area


The instrument meets the requirements of all en ISO 9000

Very simple manipulation

Large range of accessories

Checking of internal and external dimensions using a single measuring element

According to the application, the instrument can be used in horizontal position or it can be inclined up to

90°

using the additional stand
If you have any kind of questions or any interests for our product, feel free to contact us here
TRIMOS THV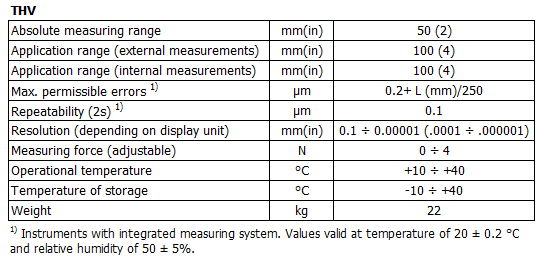 Request A Quote
To receive further information on TRIMOS THV, please complete the following form. We will reply as soon as possible
Sorry, this product does not have video.