Vision Engineering Hawk Elite devised for precision non-contact measurement and inspection of 3D parts. It employs patented Dynascope™ optical technology which enables you to view low contrast objects with confidence, increasing measurement accuracy by black-on-black, white-on-white, even transparent specimen. Difficult-to-view features may all be viewed in intricate detail – something not always possible with other measuring devices such as profile projectors or video-based systems – making it easy to take accurate measurements.
Vision Engineering Hawk Elite's measuring stages of all types will naturally display minute mechanical differences due to normal variations in component and manufacturing tolerances. Vision Engineering Hawk Elite employs Non-Linear Error Correction (NLEC) which is the most accurate correction method available and uses a software algorithm to calculate and correct any errors across the measuring stage. All measuring stages are factory-set with NLEC prior to installation.
Vision Engineering Hawk Elite features:
Range of video measuring machines provide high accuracy non-contact measurement of complex manufactured components and materials.

Measuring range up to 400mm x 300mm

Dynascope™ optical technology offers unrivalled image clarity, making accurate measurements easy.

Modular solution with high precision measuring stage options

High repeatable accuracy 3-axis non-contact measurements

Patented optical image clearly defines edges, offering superb resolution and contrast.

Optional video edge detection for higher throughput measurements Wide range of system configurations and options, including fully automated CNC control.
To serve your interest on Vision Engineering products, kindly contact our Sales Department

Vision Engineering Hawk Elite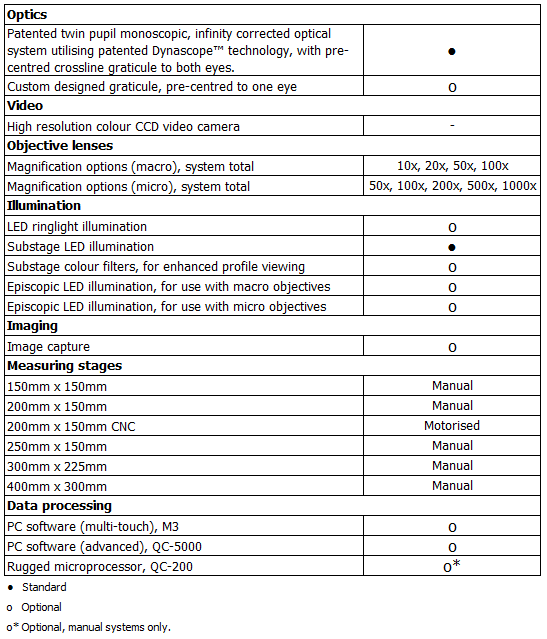 To serve your interest on Vision Engineering products, kindly contact our Sales Department
Request A Quote
To receive further information on VISION ENGINEERING HAWK ELITE, please complete the following form. We will reply as soon as possible
Sorry, this product does not have video.