Dino-Lite digital microscope is the finest investment for visual magnification and measurement. Depend on the model itself, the versatility usage of Dino-Lite includes visual quality control, production, research, quality control of eletronics, mechatronics, metallography, biomedicine, academics-educational, forensic, micro craftmanship, hobbyist, and many more. Dino-Lite series in general are:
2011 - Entry-level model for educational purposes

3xxx - Basic Models for hobbyst and miniature crafts (0.3 MP)

4xxx - Premier Models (1.3 MP)

5xxx - Professional models (1.3 MP)

7xxx - Edge models (1.3 MP & 5.0 MP with cutting edge CCD sensor)
Dino-Lite digital microscope line up features:
Depends on the model, digital CCD sensor and LED light source offer convenient set up and better image quality compared with older optical scope.

Dino-Lite have user friendly and ergonomic design for convenient handling and robust application.

Unlimited connectivity to record, share and display image, also customizable accesories for different application are available at reasonable price.

Intuitive software, all Dino-Lite series are both PC (DinoCapture) and Mac (DinoXscope) compatible. The 7000 Series have full Mac compatibility with DinoXcope version 1.7.3. (exception for AD3713 series which only compatible for PC).

For further detail of Dino-Lite products, kindly visit microscope.id

Dino-Lite Digital Microscope General Lay out:
Dino-Lite Model Numbering Guide: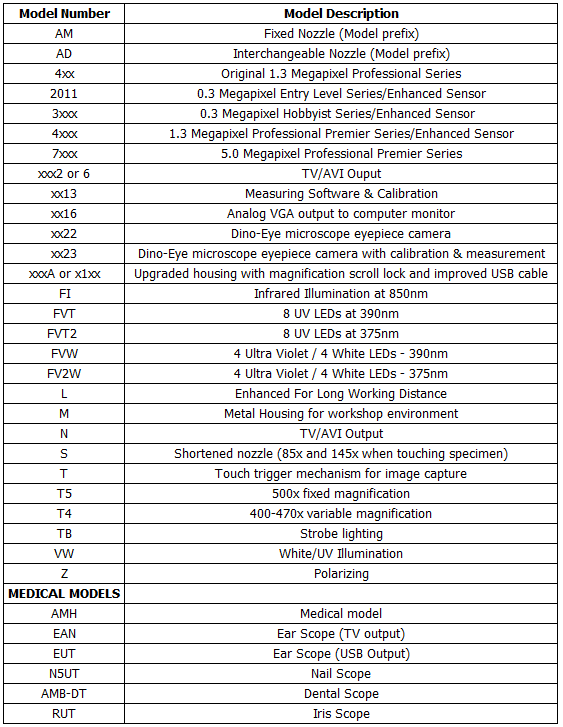 If you have any kind of questions or any interests for our product, feel free to visit us here.
Request A Quote
To receive further information on DINO-LITE DIGITAL MICROSCOPE SERIES, please complete the following form. We will reply as soon as possible
Sorry, this product does not have video.