Dino-Lite EdgePLUS AM4917MZT raises performance and quality to a new level in terms of color fidelity, frame rate, and low-light performance. Combining the latest in EdgePLUS technology with FLC (Flexible Lighting Control) and AMR (Automatic Magnification Reading) makes the AM4917MZT the right choice for a wide range of applications.
FLC provides lighting adjustment options including intensity settings from 1-6, as well as the ability to turn on or off LEDs by quadrant. AMR displays the current magnification on screen with the included software for Windows or Mac OS. Simple setup with a USB 2.0. AMR removes the hassle of stopping your work to check the magnification before performing a measurement.
Focus stacking is made easy with the AM4917MZT with the added feature of EDOF (Extend Depth of Field). The EDOF capture mode can take several pictures at different levels of focus and stack them into a clear image from its original pictures which can be reviewed in included DinoCapture 2.0. Polarization can be switched on/off or can be adjusted to offer full or half polarization for controlling glare.
Dino-Lite EdgePLUS AM4917MZT Specification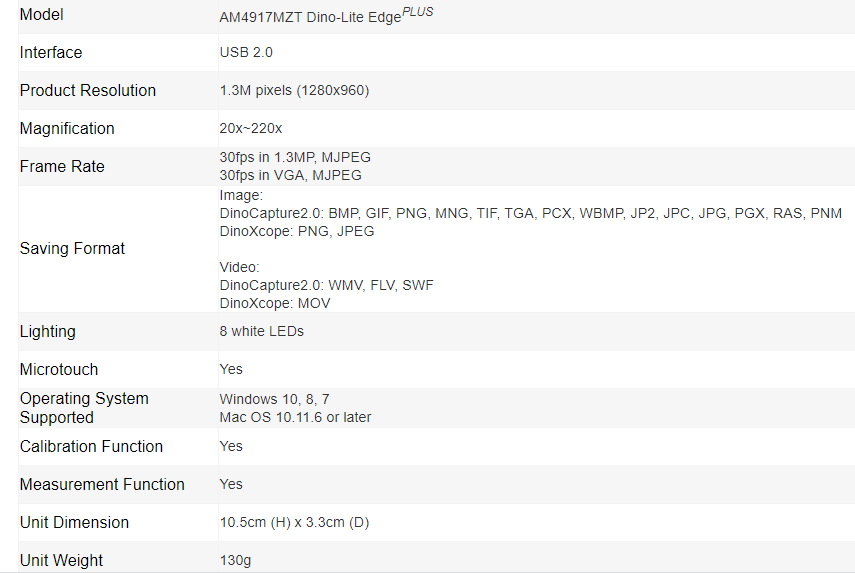 Request A Quote
To receive further information on Dino-Lite EdgePLUS AM4917MZT, please complete the following form. We will reply as soon as possible
Sorry, this product does not have video.