DoALL manufacture complete range of industrial band saw blades. This includes: bi-metal, carbide, diamond, carbon and knife-edge blades. DoALL solution is the global standard with the outmost compatibility and value to a wide variety of sawing solution for high production, multi-purpose, miter cutting, vertical contour, and custom engineered cutting. DoALL also innovate a wide selection of cutting fluids which is highly sought for their improved efficiency and cooling properties. DoALL cutting fluids includes: soluble oils, semi-synthetic, full-synthetic, and direct application fluids (mist). Your investment in DoALL cutting solutions will improve your performance to satisfy even the most demanding customer.
DoALL Diamond Saw Blade is compatible for various bandsaws and reciprocating saws. Depends on your machinery set up, DoALL diamonds Saw Blade performs consistently balanced between power to cut ratio for a cost effective job on cutting solid. The DoALL Diamond Saw Blade is manufactured from a high speed steel material coated with diamonds. DoALL diamonds Saw use nickel electroplated technology to transfer the diamond shards onto its steel blade base. This method produce a very thin and consistently sharp surface which actually consists of zillion cutting edges with tens of micrometres thick. By this innovative approach, DoALL Diamond Saw Blade enable you to work on highly abrasive material which on comparable saw needs longer hour with higher cost.
DoALL Diamond Saw Blade is suitable for cutting silicum, glass, fiberglass, quartz, abrasive composites, graphite, carbide, marble, carbon-granite, concrete, asphalt, masonry, and gem-cutting and ceramic. With free-flow water coolant, DoALL Diamond Saw Blade will give you the reliability and versatility in working on granite slab, carbon composites sheet, asbestos automotive brakes, electrical ceramic bobbins, marine fiberglass industry, aerospace equipment, resin tubes and many other application which may varies.
DoALL Diamonds Saw Blade Features:
Afforable cost in every cut.

Optimized for cutting medium to difficult material with wide selection of diamond grit edges.

Continuous for materials up too 25 mm, segmented for large materials from 25 mm.

Versatile and suitable for cutting various abrasive material. Grinds hardest, most brittle, abrasive material known.

Greater penetration with reduced feed force, and when combines with water will allows lower load burden on your machinery.

If you have any kind of questions or any interests for our product, feel free to contact us 

here
DoALL Diamond Series Ordering Guide: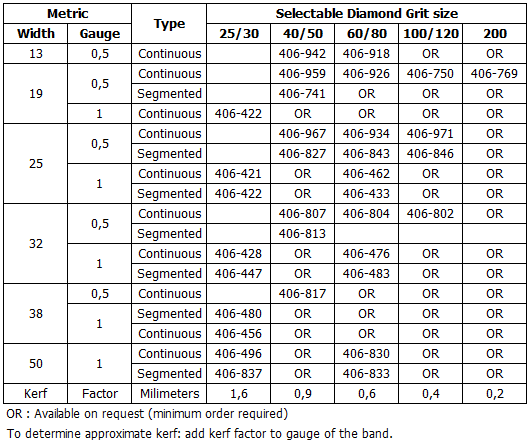 Request A Quote
To receive further information on DoALL - Diamond Series, please complete the following form. We will reply as soon as possible
Sorry, this product does not have video.