Käfer Dial Thickness Gauges J 50 R

Käfer Dial Thickness Gauge J 50 R are devised to measure the thickness of rolled foils and wires. This model has side discs at the lower roller for guiding the thread. It is built with sturdy frames suited for measuring the uniformity and parameter of thickness on open ended wires and threads especially in continuous motion. You can also retrofitted this gauges with measuring fixture, stand or simply as a handheld instrument.

By having Käfer Dial Thickness Gauges J 50 R, you can also avoid the flaw on spot unifomity in measuring thickness of thin, soft materials such as metal foils, magnetic tape or disk substrates and achieve higher accuracy, repeatable thickness measurements. You can measure each spot on material with even force approximately 1.5 N. On request these instruments can also be supplied at an extra charge with various range of roller's anvil.

To serve your interest on various Käfer products, kindly contact our Sales Department
---
Käfer Dial Thickness Gauges J 50 R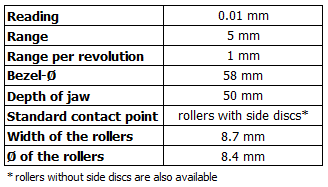 To serve your interest on various Käfer products, kindly contact our Sales Department