Started in Tokyo 1926, Koyo-Sha manufacture the finest standard of polishing and finishing solution for various industrial application. The Koyo-Sha product ranges are all adhere to ISO9001 and ISO14001 to meet your strictest quality assurance and fabrication standards.
The "bias-cut" is a technique used by tailors and dress-makers for cutting cloth. The greater stretch in the bias (diagonal) direction of the fabric, helps it accentuate body lines and curves and drape softly. The bias of a piece of woven fabric is at 45 degrees to its warp and weft threads. Every piece of woven fabric has two biases, at right angles to each other. Fabrics which are not woven, such as felt, do not have a bias.
On industrial application, Koyo-Sha Bias cut are devised with 12~16mm of high quality cloth buff in thickness. 16-ply (sheets) of cloth are fixed with a clinch ring in center infolding in order to have plenty of pleats of bias-cut cloth. The more the pleats, the harder the buff becomes. Koyo-Sha Bias Cloth Buff is optimized for finer polishing on various surface. However, when the workpiece's surface are of irregular shape, corrugated and need to be woked with moderate cutting, Koyo-Sha Wide Finger Sisal Buff will perform much better.
Koyo-Sha Bias Cloth Buff Disc are classified into 5 stages as M-0, 2, 4, 6, 8 by their softness. As a guidance of polishing process, M-4~8 are used for cutting and cut & coloring and M-0~2 for coloring. Koyo-Sha Bias Cloth Buff, with many characteristics listed below, are suitable for wide range of buffing with manual or with automatic polishing machine from cutting to coloring.
Koyo-Sha Bias Cloth Buff Disc Features:
Long life because of bias cloth as woven fabric is more elastic as well as more fluid in movement, compared to the on-grain direction.

The air going through from the center to the peripheral part produces the cool air effect which will ensure better finish with no heat marks.

Since the cloth surface area is larger in our pleated bias cloth buffs, it shows better preservation of polishing compounds.

Both M-cloth and C-cloth are available.
To serve your interest on various Koyo-Sha solutions, kindly contact our Sales Department
Koyo-Sha Bias Cloth Buff Disc Types:
*Flanges on Koyo-Sha Bias Cloth Buff are all sold separately.
Koyo-Sha Bias Cloth Buff Disc Dimension:

Compatible Flanges For Koyo-Sha Bias Cloth Buff Disc:

Koyo-Sha Bias Cloth Buff Disc Application Guide: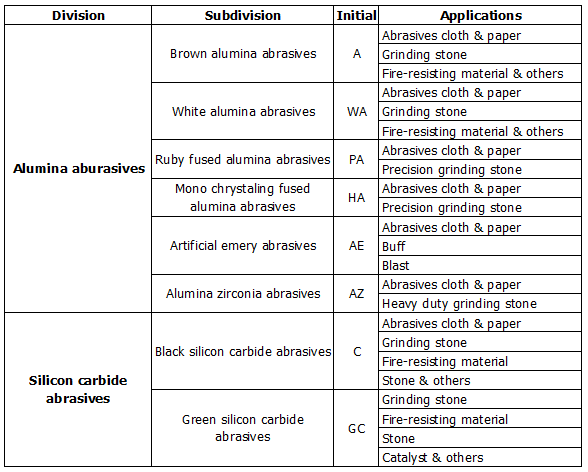 Koyo-Sha's Common Buffing And Compounds Combination Guide:
The following chart will help in deciding which wheels and compounds to use when polishing different materials.
This chart is a starting point and experienced polishers may vary the materials used to suit different applications.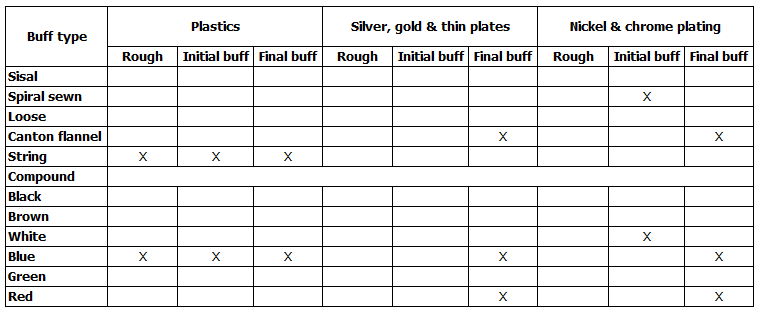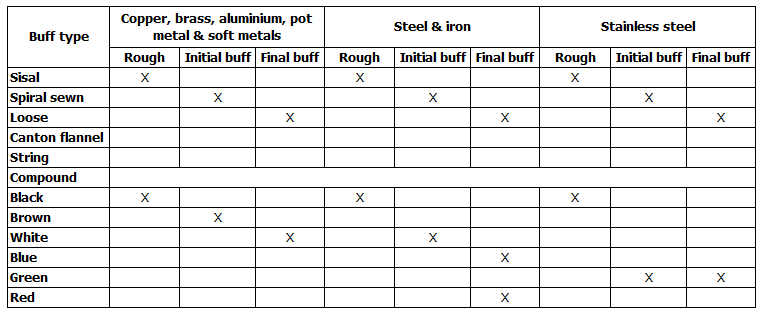 To serve your interest on various Koyo-Sha solutions, kindly contact our Sales Department
Request A Quote
To receive further information on KOYO-SHA BIAS CLOTH BUFF DISC, please complete the following form. We will reply as soon as possible
Sorry, this product does not have video.