MRJ-FL-3D20A
Dynamic focusing fiber laser marking machine
Equipment Introduction:
Model MRJ-FL-3D20A dynamic focusing fiber laser marking machine can be applied to any curved surface, sphere, step and irregular surface marking;
The laser focal length can be changed through the focusing axis, can also realize deep carving, to meet all 3D marking requirements;
Equipped with MM3D dynamic focus control software designed by Eastern Logic Inc, to realize high precision marking on any shaped objects;
System Characteristic:
The max marking field is 400x400mm, the max scan height is 130mm;
The galvanometer scanner focus beam size is 50um, response speed can meet precision filling up to 5000mm/s;
Support 3D model importing, and 2D graphics can be directly coated or projected on the built-in commonly used curved surface;
Equipped with shining blue LED and unique streamlined design of marking head, specially applied for high-end laser market.
Adopted the integrated structure, small size, fine sealing, to ensure the stability of long time working.
To serve your interest on MRJ Dynamic Focusing Fiber Laser Marking Machine, kindly contact our Sales Department
MRJ-FL-3D20A
Dynamic focusing fiber laser marking machine
Product Performance Parameters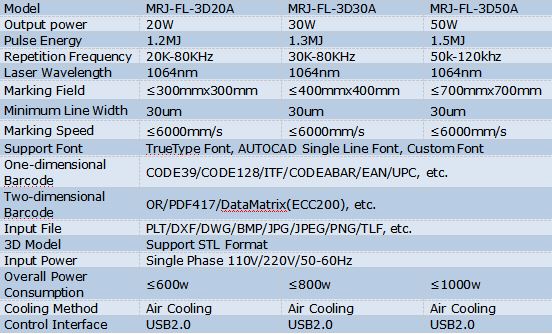 Request A Quote
To receive further information on MRJ Dynamic Focusing Fiber Laser Marking Machine 3D20A, please complete the following form. We will reply as soon as possible
Sorry, this product does not have video.