Vision Engineering VisionZ2 are devised for precision industry line. It has magnification up to 122x powered by award winning optical lenses combined with full-HD (1080p) digital imaging processor which deliver superbly high contrast imaging, ultimate simplicity for any task which requires precision magnification of either compact standalone system with or without PC. Vision Engineering VisionZ2 versatility are ideal for fluid handlings of objects and movement on wide range of precision magnification tasks.
Vision Engineering VisionZ2 video inspection are also customizable for production areas range from production line, R&D, aerospace, laboratory, micro assembly, electronics, micro mechanics, automotive, dental technology and medical device, forensics, quality control tasks, and micro crafts.
Vision Engineering VisionZ2 features:
High resolution full-HD 1080p imaging with selection of lenses combination zoom magnification up to 122x.

4D lens is the standard option with Benchtop stand and 5D lens is the standard option with Struktura stand with a range of magnification and working distances to suite your application requirements (see Technical).

Various magnification option with interchangeable 3D (dioptre), 4D and 5D objective lenses are available.

Image capture, save, sharing via USB when connected to PC. via USB and HDMI connection

Intelligent control mouse is available with functions such as memory save / recall, image capture, overlay grid & dimensioning lines, as easy as using PC's mouse click.

PC based software is available so that the captured images can be used for further processing, or stored in a variety of formats including BMP, JPEG & TIFF.
To serve your interest on Vision Engineering products, kindly contact our Sales Department
Vision Engineering VisionZ2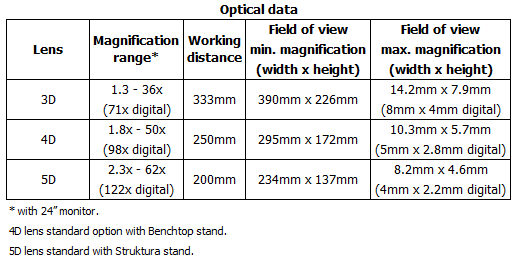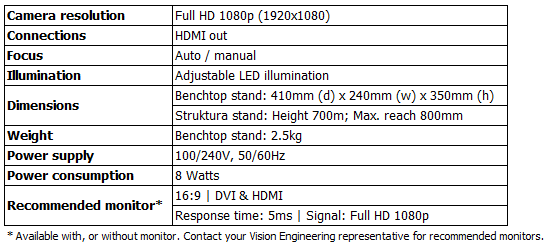 To serve your interest on Vision Engineering products, kindly contact our Sales Department
Request A Quote
To receive further information on VISION ENGINEERING VISIONZ2, please complete the following form. We will reply as soon as possible
Sorry, this product does not have video.