Yamamoto Scientific Tool Laboratory Co., Ltd. was established in 1939. It was the first dedicated manufacturer of standard test blocks in Japan, and has maintained its reputation as the best and foremost company in this field.
Yamamoto's spark test provides an easy and quick method to identify the type of steel based on the spark generated from the steel when being pressed onto a grinder. These sets of standard pieces for the spark test are compliant with JIS G0566 : 1980 Method of the spark test for steel and have been chemically analyzed with great strictness. The fields for spark test application range widely, including material control, machine designing and processing, heat treatment and material test. Using the standard pieces makes the judgment of test result easier, faster, and more accurate.
Features of the Spark Test
Compared with precision analysis method, the spark test has following advantages:
Spark test results are not subject to the shape, roughness and/or heat-treated structure of the piece

Nondestructive 100% inspection is possible (except for end products)

The spark test requires less installation cost, time, and labor.
Judgment of Test Result
Observe the three sections of spark as shown in Fig. 1, and identify the type of the tested steel piece based on the result of observation with attention to the following details:
Angle, color, brightness, thickness, and length of the spark lines; whether the lines have bursts; and how the lines wind around the grinder stone.

Color and shape of the bursts (whether they represent carbon steel or alloy steel); whether the bursts have pollens and what pollens, if any.

What response you feel when the spark is generated.
It would be helpful to compare the spark test result of the tested steel piece against that of a standard piece.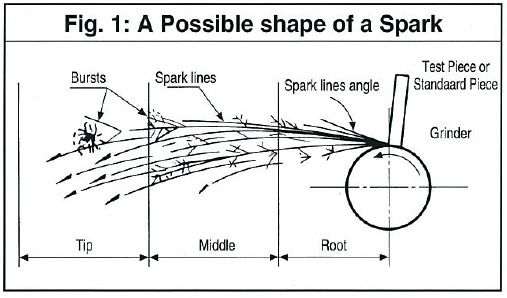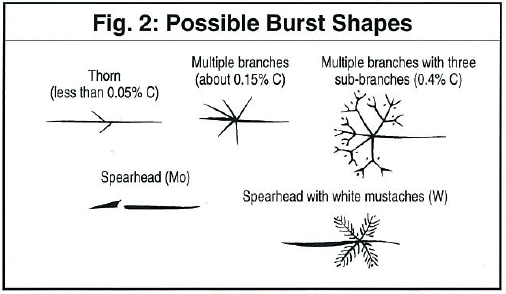 To serve your interest on Yamamoto products, kindly contact our Sales Department
Group for Educational Applications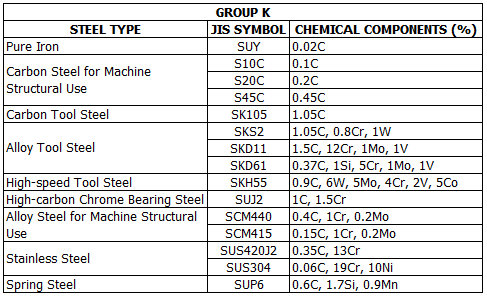 Group for Specialized Applications


To serve your interest on Yamamoto products, kindly contact our Sales Department
Request A Quote
To receive further information on YAMAMOTO STANDARD PIECES FOR SPARK TEST, please complete the following form. We will reply as soon as possible
Sorry, this product does not have video.