MRJ-CO2-30B
CO2 Laser marking machine
Equipment Introduction:
Model MRJ-CO2-30B nonmetal laser marking machine has won worldwide attention and trust for its excellent quality, perfect marking and service system;
CO2 laser marking machine can engrave most of non-metallic materials and parts of metal materials, widely used for laser marking on various of material's surface, such as paper, rubber, wood, ceramics, glass, plastic, leather, cloth, PCB board, etc.
System Characteristic:
Adopted the imported metal RF CO2 laser, stable and reliable performance, with high repetition precision and positioning accuracy;
High performance CO2 laser, working lifetime up to 100000 hours, can run 24 hours at full load;
Adopted the high speed digital galvanometer scanner system, high marking speed, fine marking line, strong anti-interference ability;
Exclusive marking software, powerful function, friendly man-machine interface, easy to operate for users;
Uniform beam quality can mark anything such as number, bar code, serial number, random number, graphics, trademarks and etc.
MRJ-CO2-30B
CO2 Laser marking machine
Product Performance Parameters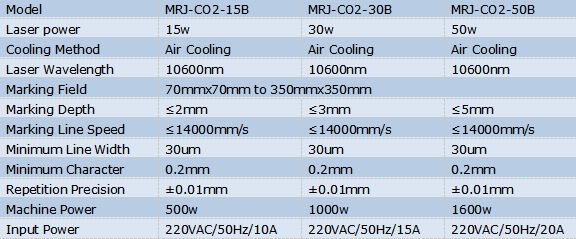 To serve your interest on MRJ CO2 Laser Marking Machine, kindly contact our Sales Department

Request A Quote
To receive further information on MRJ CO2 Laser Marking Machine 30B, please complete the following form. We will reply as soon as possible
Sorry, this product does not have video.