High cleaning surface cleanliness, can remove the resin, oil contamination, stains, dirt, rust, coating, plating and paint on the surface of different shape objects; Mainly used in mold processing, automobile manufacturing, shipbuilding industry, food processing, sewage treatment, rubber tires and petrochemical industries.
Equipment Introduction:
♦ MRJ-Laser 60w fiber laser rust removal cleaning machinea high-tech product for metal surface cleaning, without chemical reagent and medium, dust-free and anhydrous.
♦ It is easy to assemble, auto-focus and easy to operate.
♦ The cleaning galvo-scanner adopts imported high-speed motors from USA.
Exclusive Advantages :
Non-contact cleaning, no damage to substrate of components;

Precision cleaning, realized selective cleaning of precise location and accurate size;

No need any chemical cleaning liquid, no consumables, safety and environmental protection;

Simple operation, realized automated cleaning by hand-held or robotic arm;

High cleaning efficiency, saving time;

Stable laser cleaning system, Almost no maintenance requirement.
♦ Unique self-developed spiral cleaning mode:
MRJ-Laser 60w fiber laser rust removal cleaning machine makes more uniform cleaning surface, WITHOUT zebra crossing compare with traditional laser cleaning;
♦ No any damage to substrate of components:
With advantages of small size, light weight, high speed, high precision and good stability. The comprehensive performance index has reached the international leading level in this field.

To serve your interest on MRJ Portable Laser Cleaning Machine, kindly contact our Sales Department
MRJ Portable Laser Cleaning Machine Performance Parameters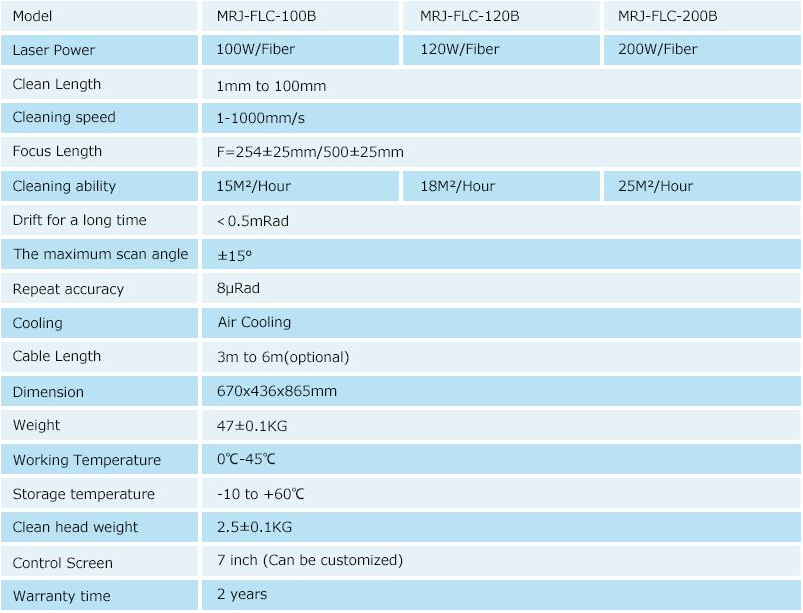 Request A Quote
To receive further information on MRJ PORTABLE LASER CLEANING MACHINE, please complete the following form. We will reply as soon as possible
Sorry, this product does not have video.