Sisma MCL is devised by SiSMA Spa., to empower fabricators in being versatile on precision cutting of metal workpiece. Sisma MCL laser cutting system in its ball screw axis version is designed to process high performance and functionality.
Sisma cutting laser MCL works by utilizing Fiber Ytterbium laser beam. The laser beam provides a concentrated heat source, allowing for narrow, deep welds and high welding rates. The process is frequently used in high volume applications, such as in the automotive industry as x-rays are not generated.
To ensure a high stability over time, the Sisma MCL built structure is in electro-welded tubular steel with stress relieved treatment. The cutting head features anti-collision capacitive sensor, capable of ensuring high-precision processes in all circumstances: Sisma MCL provides significant performance in terms of speed, cut quality and ability to perform work with a high acceleration and high precision even with continuous direction changes.
In addition to the standard version, Sisma MCL is suitable as a basis for combined processes machines, combining laser cutting with marking or milling. Now you can simplify and streamlining your equipments and workshops for many workpiece fabrications.
Sisma Fiber Ytterbium cutting laser MCL Features:
Compared to other method such as electron beam, the Sisma's laser beam can be transmitted through air rather than requiring a vacuum.

Sisma's LBW mechanism results in higher precision quality cut.

Sisma's Fiber lasers are compact compared to rod or gas lasers of comparable power, because the fiber can be bent and coiled to save space.
Sisma's Fiber lasers exhibit high vibrational stability, extended lifetime, and maintenance-free turnkey operation.

High peak power and nanosecond pulses enable effective marking and engraving.

The additional power and better beam quality provide cleaner cut edges and faster cutting speeds.
To serve your interest on Sisma Fiber Ytterbium cutting laser MCL, kindly contact our Sales Department
Sisma MCL Fiber Ytterbium cutting laser MCL Series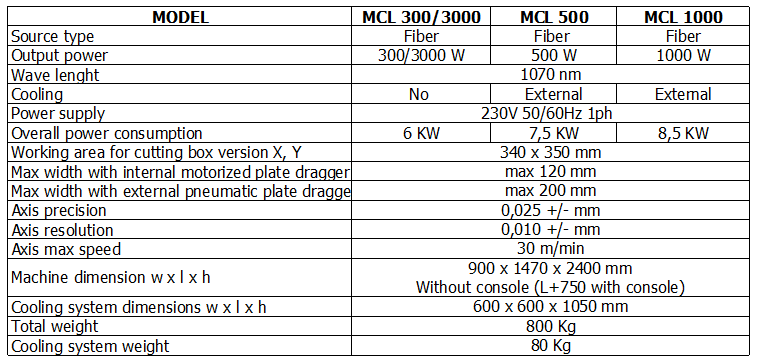 To serve your interest on Sisma Fiber Ytterbium cutting laser MCL, kindly contact our Sales Department
Request A Quote
To receive further information on SISMA FIBER YTTERBIUM CUTTING LASER MCL SERIES, please complete the following form. We will reply as soon as possible
Sorry, this product does not have video.