The Sisma MYSINT100 is the world's pioneer of 3D Laser on metal printing for industrial application. By generating metal prototypes with Laser Metal Fusion of steel, gold, silver, bronze and chrome cobalt powders, Sisma MYSINT100 open limitless possibility and new ways of metallurgical manufacturing in history. The Sisma MYSINT100 offer reasonably value investment and reliability to sharpen your competitive advantage.
The Sisma MYSINT100 on operational needs a .STL 3D file, metal powder and operator. Sisma MYSINT100 laser melting the fine powder selectively and becomes a perfectly shaped workpiece. Yakin Maju Sentosa recommend Sisma MYSINT100 for crafting aircraft parts, medical-implant parts, smaller mechatronics, security locking systems etcetera.
The advantages of Laser Metal Fusion (LMF) technology are:
Sisma's operational training and certification packages are very affordable compared to competitors

LMF significantly reduces production times and manpower, flexibility in the production with no minimum batch production.

Depends on the 3D scanner machine and 3D design, MYSINT100 are capable of printing the exact workpiece from any metal powder or alloy, even enabling the creation of workpiece with moving parts and mechanisms at instant.

Due to its trabecular structure, workpiece created with Sisma MYSINT100 is lightweight and exemplary robust even though using less precious metal.

Reuse of residual metal powder which remains unused during the LMF process can be recovered for future use.

Protection of know-how and design as the production process of Sisma MYSINT100 guarantees total protection and confidentiality of intellectual property.

Sisma MYSINT100 overcomes geographical limits as the CAD file can be drafted anywhere in the world simply by mailing it or remotely operating the machine's.

No mould/casting maintenance, no tools to replace compared with conventional techniques. The LMF process does not involve any tools subject to wear and replacement, thus adds efficiency on energy consumption, storage cost and low environmental impact.
To serve your interest on Sisma MYSINT100 Additive Manufacturing, kindly contact our Sales Department
Sisma MYSINT100, 3D Laser on Metal Printing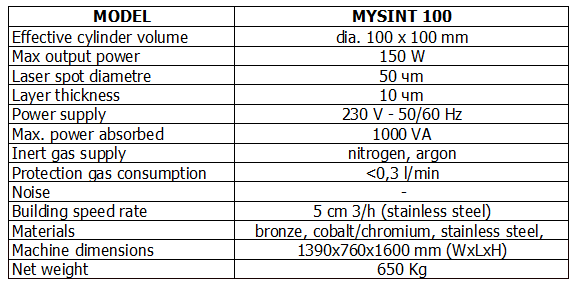 To serve your interest on Sisma MYSINT100 Additive Manufacturing, kindly contact our Sales Department
Request A Quote
To receive further information on SISMA MYSINT100 ADDITIVE MANUFACTURING, please complete the following form. We will reply as soon as possible
Sorry, this product does not have video.