Sylvac's series of digital height gauges are specially optimized for versatile measurement for both production lines and QC lab. The highly practical Sylvac Height Gauge Hi_Cal offers 2 µm repetitive accuracy with a great efficiency by eliminating hands-on probe interpolation as in Vernier height gauge. Thanks to its large screen which can simultaneously display diameters and centerlines, you did not need other gauging instrument such as transfer gauges which are costly and less practical in daily routines. You can also use its motorised probe, interpolate and sends the measurement data easily though RS232-USB connection for traceable record or further stastistical analysis on spreadsheet.

Your investment on Sylvac Hi_Cal Height will allow you to unlocks higher level of precision for various application. Compared to other brands, the programable measuring sequences of Sylvac Height Gauge Hi_Cal ensure ease of use on higher production queue, compact form factor with lightness and the two travel speeds which offer a great comfort during the measurement of small diameters. The impressive versatility of Sylvac Height Gauge Hi_Cal is highly regarded by many end user in calibration labs company, precision tool and jig making, auto-industry and defense-military industry as well. You can also use this device for improvised gaging rig with Sylvac's gaging multiplexer software.
However, if you are looking for height gage of much higher range, you might also want to consider Trimos Height Gauge V6 or for manual height gaging Sylvac Digital Height Gauge Hi_Gage ONE. If you are also considering an in-house capabilities to maintain your height gauge's accuracy on daily routines, you can also order this Swiss-made digital height gauge together with precision gauge blocks.
Sylvac Hi_Cal V2 Smart with Integrated Bluetooth® Technology Height Gauge Features:
Intuitive functions

Great mobility

Measurement of internal and external diameters, centerlines, heights, thicknesses, depths, surfaces

150, 300 and 450 mm range

Data output USB and RS232 and Bluetooth®

Extremely low and adjustable measuring force according to the probe

No influence of the operator on the measurement results

Battery life: 40 hours

Probe constant value memorized even when switched off

Ergonomic motorized displacement paddle
Sylvac Hi_Cal V2 Smart with Integrated Bluetooth® Technology Height Gauge Benefit:
Integrated Bluetooth® technology (without dongle)

Quick and easy to use - just switch on the Hi_Cal and measure!

Lightweight (4/4.7/6.8kg) and easily transportable for workshop use directly next to the machine.

Automatic pre-positioning of the measuring probe, programmable if used in combination with Sylcom PRO.

New and larger display, more ergonomic.

Dynamic control of the probe movement speed depending on how the button is pressed

No influence of the operator on the measurements made.

Disk shaped probe 7.7mm for measurement of internal groove now included in the standard delivery.

Multiple functions, instrument programmable via computer

To serve your interest on various Sylvac solutions, kindly contact our Sales Department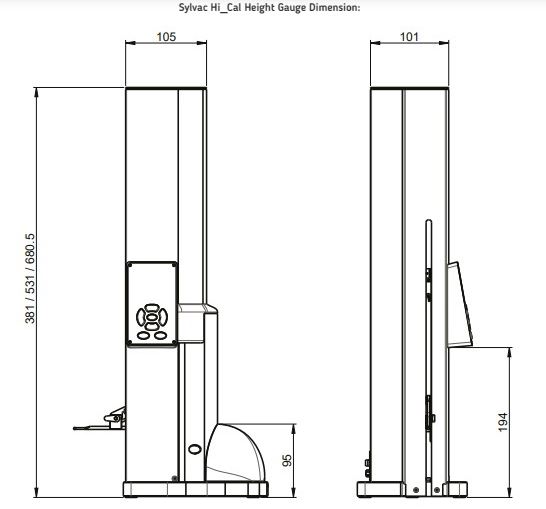 Sylvac Height Gauge Hi_Cal V2 Smart Ordering Guide: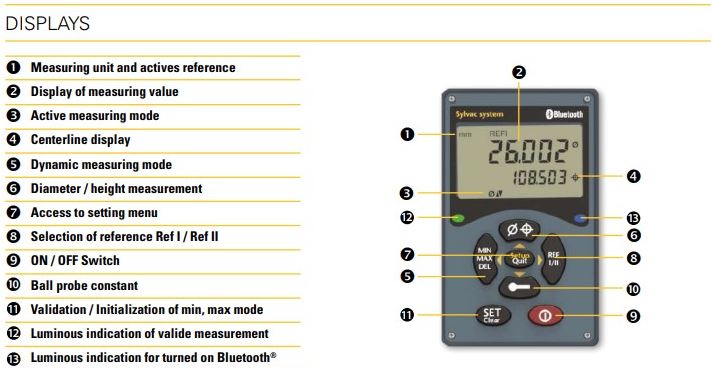 To serve your interest on various Sylvac solutions, kindly contact our Sales Department
Request A Quote
To receive further information on Sylvac Height Gauge Hi-Cal V2 Smart, please complete the following form. We will reply as soon as possible
Sorry, this product does not have video.